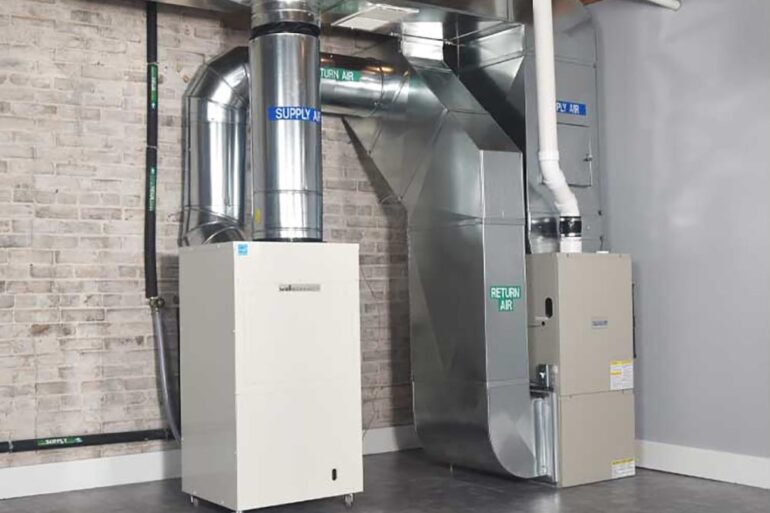 The niche market of geothermal can offer profit opportunity for contractors

Despite being around for more than 30 years, it is fair to say geothermal technology is a niche in the HVAC market. That is what happens when you have about 1% of the market share.
Well-Connect Hybrid Geothermal in Alpena, Michigan, is looking to be a niche in the geothermal market — focusing on making rural home heating more affordable through manufacturing a unique hybrid geothermal application for homeowners who are heating with propane, fuel oil, electric resistance, or wood.
What makes Well-Connect unique is the add-on design, use of the home's existing water well, and the ability to run the geothermal system and the existing system simultaneously on an as-needed basis. This results in overall system efficiency and fossil fuel offset. Much like a gas/electric hybrid car uses electricity as its primary fuel source and a gas engine as a backup, the geothermal system serves as the primary heat source and only asks the existing heat source to contribute as needed on the coldest days.
This patented simultaneous operation feature is facilitated by a separate blower in the Well-Connect and two strategically placed backdraft dampers that allow the product to supply heat to a common duct system individually or in parallel.
At The Beginning
The business started as a construction company in 1948. That part of the business is still active today. The family-owned company installed oil and wood-burning furnaces in rural homes in northern Michigan. In the decades since, the Timm Construction Company has built hundreds of commercial and residential structures, always keeping energy efficiency in mind.
They got into the geothermal business about 10 years ago when Dennis Schultz had the idea to design a mini geothermal unit to help rural homeowners who were struggling to pay their propane bill.
"The original prototype was called Woody because the cabinet was built with plywood," current owner Tim Schultz said. "We got it approved and started selling some."
This is where Chris Lehman comes into the picture. With over 40 years of experience as a mechanical contractor in the geothermal and solar fields, he joined the company to help sell this product.
"I'd been doing renewable energy base and high-efficiency type stuff for basically my whole career, and then I found these guys. I thought it was an interesting concept," Lehman said. "What was unique was the concept of going after an underserved market. More homeowners were paying two or three times what normal people that have natural gas access pay for heating — depending on what fuel they are burning and the current price of propane or fuel oil, which is not regulated like natural gas. That's a market that really needed the technology and the savings."
Additionally, every Energy Star certified product comes with a proprietary Nano Wi-Fi-enabled data logger, which allows both the contractor and homeowner to analyze actual system performance. The logger constantly monitors and records the compressor/mode run status, four temperature points (water in, water out, air in, and air out), second-stage heat runtime, and fault/lock-out events.
This data is displayed in real time on a dedicated web page that can be viewed from any internet-connected device. The display provides daily, monthly, and annual totals for heating operation, cooling operation, supplemental heat operation, power consumption, and the amount of fossil fuel offset. The data points are also presented in charts showing the most recent 24-hour period. These charts can be used to verify performance and operating efficiency, and to identify service or maintenance issues such as a dirty air filter or water filter. An email alert is generated if any out-of-spec operating condition occurs.
Schultz likens it to the hybrid car.
"That was the idea. We want to squeeze as many inexpensive BTUs as we could out of a small amount of that domestic well water that was also serving the house while not disturbing the household usage," Schultz said.
With the geothermal tax credits, an extension of which were recently passed in congress, Schultz said it only takes six to eight years to break even on the product. The net cost of the system after incentives is usually around $9,000 with an annual heating cost savings of around $1,250, according to the company.
"And the product life is around 25 years," Schultz said.
Well-Connect Hybrid Geothermal has installed more than 800 systems in Michigan. Their goal is to move 1,000 units in 2021 in Michigan alone and expand across the Ohio Valley region. One of the selling points to contractors is that the installation only takes a day.
"Our challenge is getting this name out there and making people aware of the product," Schultz said. "There are a million wells in Michigan."
The manufacturer sees this as a way to expand the geothermal market. They do not see themselves competing against the traditional geothermal companies. Instead of fighting over a piece of the pie, their goal is to grow the pie.